I am going to mix it up tonight and start with dinner. Mr. Incredible suggested I make tamale pie. I have never made one but found a recipe that I had all the ingredients to and thought I would give it a shot. Of course I substituted all the fresh ingredients like onions and green bell peppers for my freeze dried ones. I used tomato powder to make the tomato sauce and pureed a can of tomato dices in the blender so it would be free of tomato chunks. I used freeze dried corn instead of canned corn too. The ground beef? Freeze dried, one cup of ground beef is plenty of meat in our meals. I tripled the amount of chili powder at least. I mixed up the filling and was afraid it tasted too tomatoey. It also made a lot of filling. I added some Colby cheese to the filling. First because the recipe calls for cheese and second to lessen the tomato flavor.
I dumped a third of the filling in a bowl to get it out of the way. I will have to turn that into taco soup tomorrow for lunch or something. Then I got another pot out to make up the tamale corn part. This recipe was time consuming even when using the freeze dried food. I was afraid this was going to be a dish I would be scraping into the garbage. The irony is that I was just talking to my sister this morning telling her how blessed I have been through out this whole experience because everything I have made had turned out and was well received by my family. Until now.
The tamale pie came out of the oven and I took a spoonful of it to try. Julz came in and said, "that looks weird, how is it?" I tell her, "Interesting." Then I ask her," what kind of incentive should I offer to everyone who finishes their helping?" Julz asks, "Not good, huh?".  So I did it. I am ending this experience the way I started by bribing my kiddos to eat the food. I said I would pay everyone who ate their whole serving, that I dished up $1. Everyone did it! And the girls actually liked it and probably didn't even need an incentive. Julz went back for seconds and said it was a very flavorful meal. Reese needed a glass of water to wash down every bite. I laugh because I was just like him when I was young and I would not have like the tamale pie either.
Check out this thrilling picture.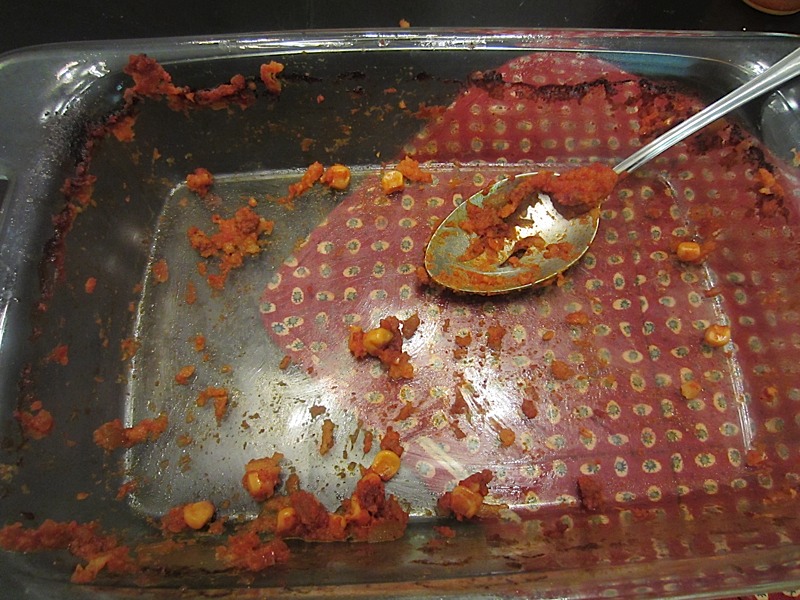 Gone! It began like this: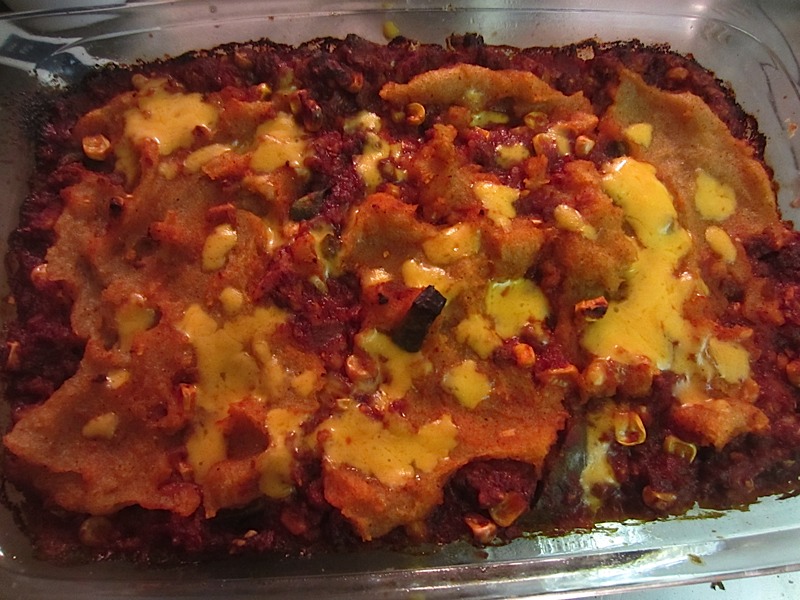 Here was the serving each person must eat to receive the incentive: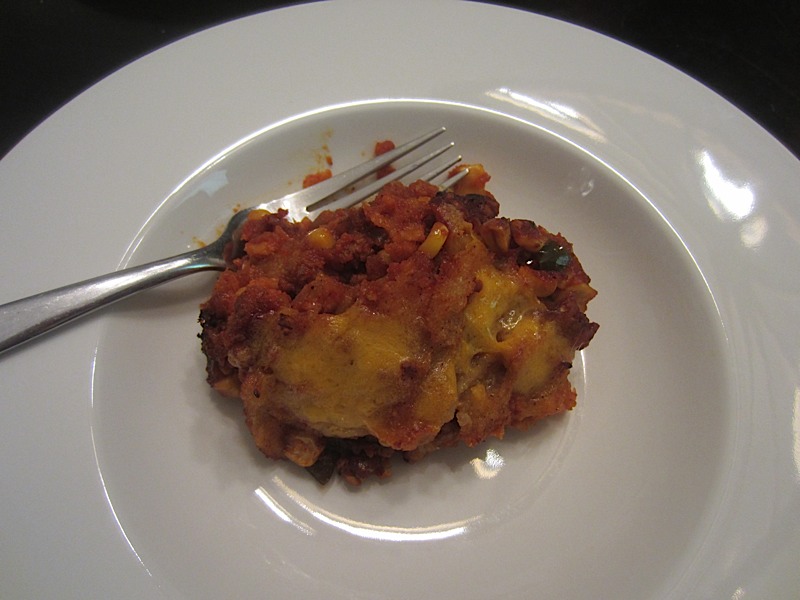 That was a relief. I thought I was going to hear a lot of complaining tonight. On our second to last night of our food storage challenge.
Lunch was left-over stuffing from Monday night and some canned chicken I had in the fridge with a chicken gravy over it. Longing for the fresh veggies.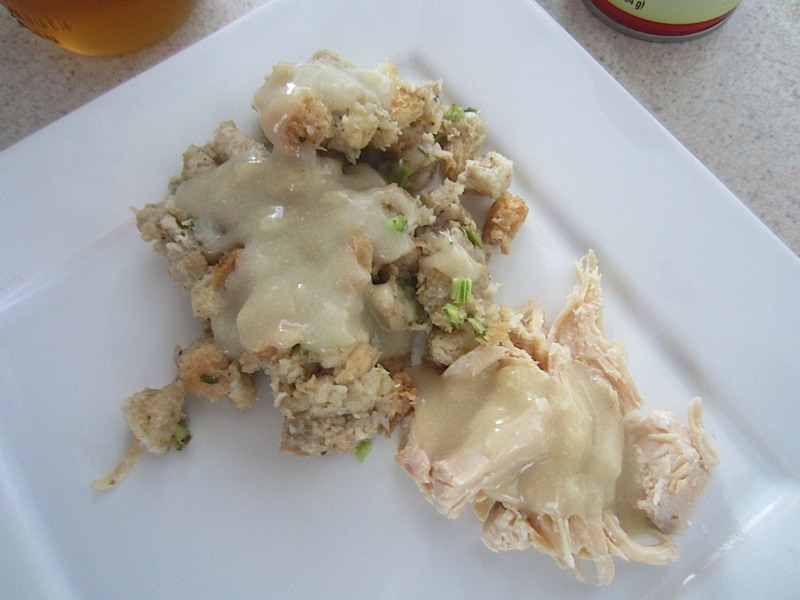 Oh me oh my. Last night after posting how we are out of syrup an idea flashed in my mind. Perhaps I could make syrup with brown sugar! I did a google search for brown sugar syrup and found several recipes that looked so easy.  I could use my sandy brown sugar! I chose this one. I made pancakes today and whipped up my third and final box of Trader Joe's shelf stable whipping cream. I made a strawberry syrup with water, freeze dried strawberries, and honey. And we had the brown sugar cinnamon syrup. It reminded me of brown sugar poptarts.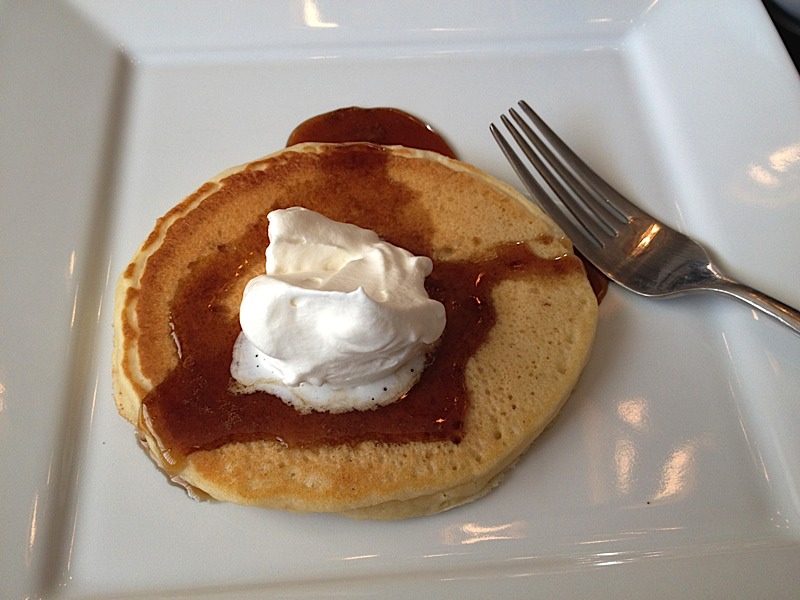 Pagey and I had round two of pancakes and brown sugar syrup at 11:00 am.
Snack time? Who needs snack time? Pagey helped herself. Eating out of the can is a no no. But Pagey has always love snacking on Thrive's freeze dried peas and corn. I love it. Such a healthy snack.