I briefly considered living on this 72-hour pack for 3 days to see what it was like. But thought better of it because I will never do kits this way again. I ordered these kits through a group order thing at Relief Society almost seven years ago! As I was cleaning out my cold storage room I found them and  decided to open them up and let the kiddos have at the contents. These kits were assembled and delivered in these large mylar bags. The contents are written on the outside but I never had seen what the products were until now.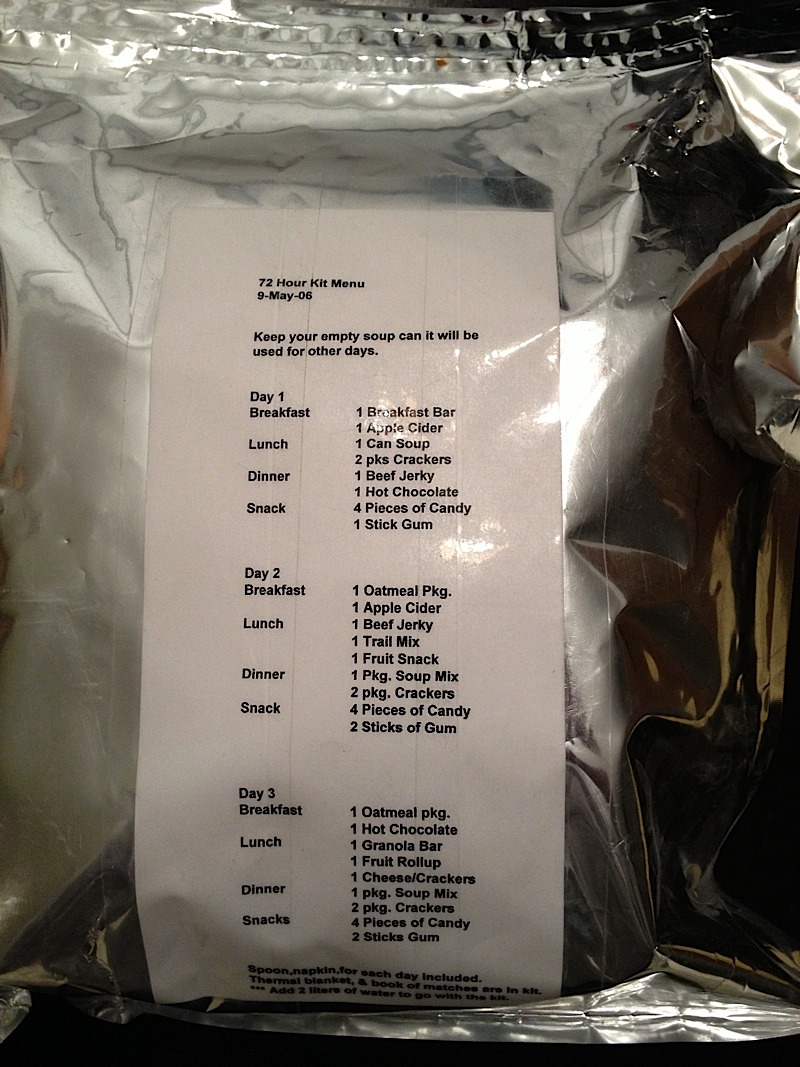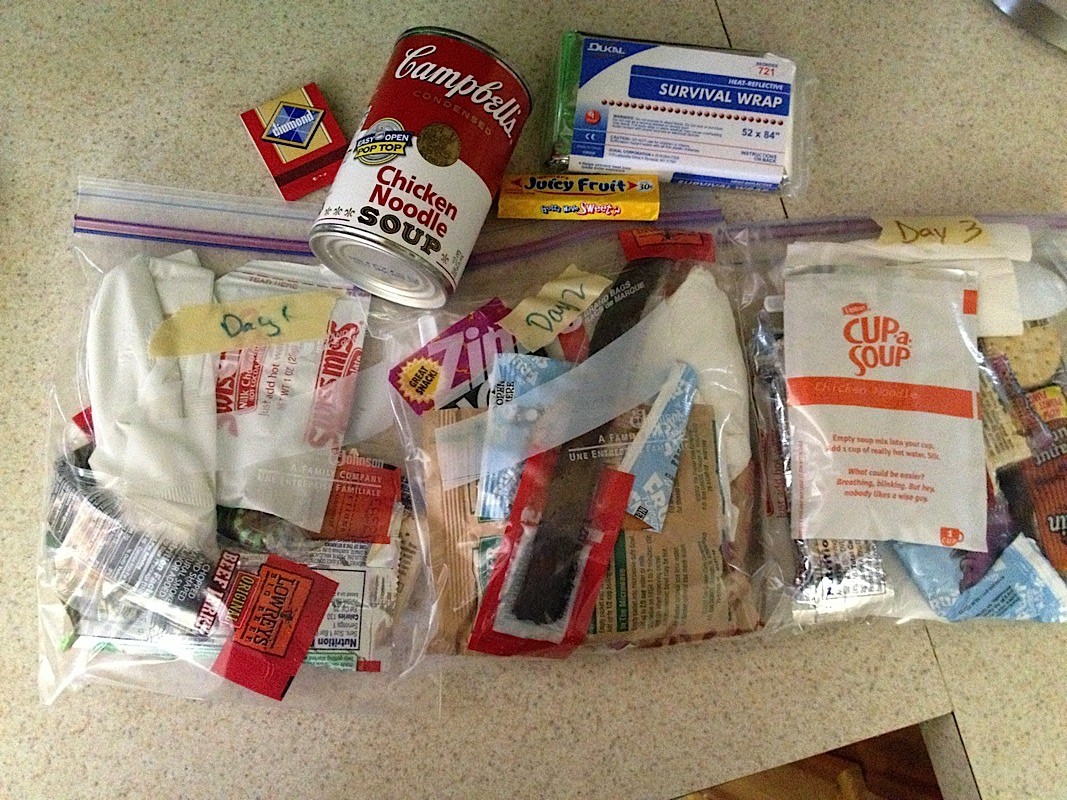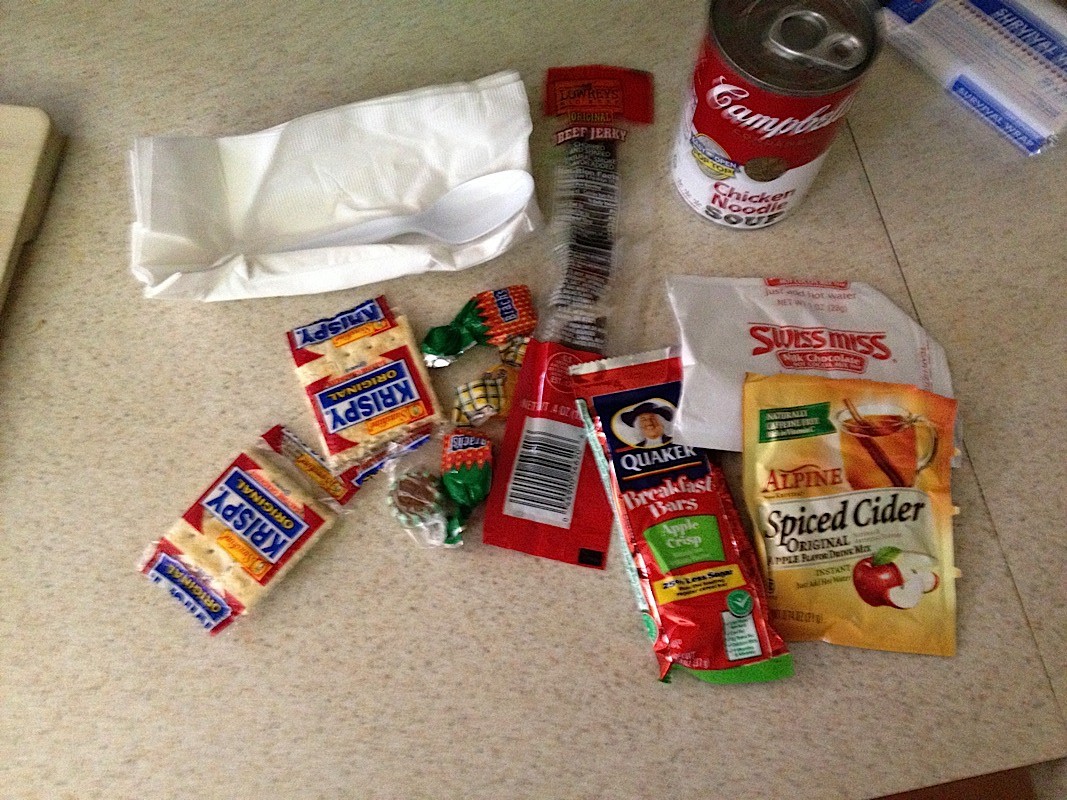 This is day one's contents. The idea is to warm the soup with the pack of matches and then save your can for the other two days to heat water (the 2 liters) I was suppose to be storing with these kits, for the cup-a-soup packets.
Day 1 calorie count is 693 calories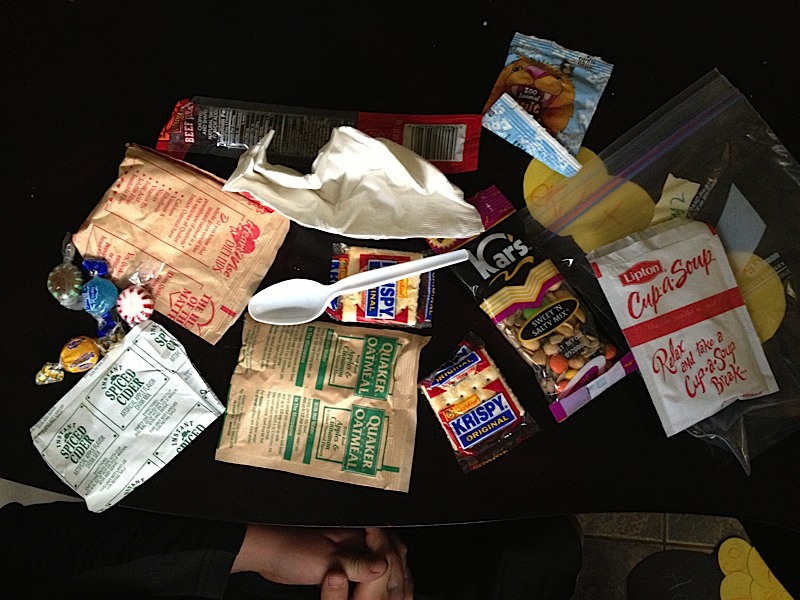 Here is day 2's contents. Oh and the can from day one is used to mix up your hot cocoa, cider and oatmeal. Can you imagine? There wouldn't be a way to clean the can out very well since the 2 liters of water would be critical for eating and drinking only.
Calories count for day 2 is 842.
Each day was packed up in a freezer quart zip lock bag. It was nicely organized. Each kit also had a pack of juicy fruit chewing gum.
The calorie count for day 3 was 834 calories. None of this food has very high nutritional ratings. But at least it was something I guess.
The beef jerky was very very hard, like a cracker. Our dog Whisper would eat it. Most of the pieces went in the garbage. The best buy date on the jerky Feb. 22. 2007. The saltine crackers also went in the garbage. They had taken on the taste of the jerky. The candy, fruit snacks and trail mixes all eaten by the kiddos. Julz opened the soup cups and made up the one with noodles. She took a small bite and dumped it down the drain. The cider and cocoa seemed to be liked by those who drank it. And I put the oatmeal packets in my pantry. None of this processed food is compliant on my cleanse.
The kit you can see in the photo, included a clean spoon and napkin for each day and a survival blanket.
I don't remember what I paid for these kits. But having them provided me with some comfort. Although now that I see what was included I am glad I didn't have to use the kits. I feel it was money well spent, but I had way too much peace of mind for the tiny amount of nutrition and storage life it provided. This kit was basically good to use for about a year after I bought it!
PS. My husband tried a bite of trail mix and spit it out immediately. He says, "yep, food goes bad!"