I have mention my friend Heather before. But this morning I made her Mix and Match Muffins for breakfast and they were a hit! I even had a little snag mixing them up this morning. I followed the recipe to a T.  But I have this issue with my brown sugar, its rock hard.
The brown sugar was rock hard until I smashed the bag on the counter to break it up a bit. Now its all sandy like. My Julz says it would make perfect sand for a beach scene cake. She loves watching Cake Boss. Anyway there are big chunks and small pieces. Its a quite inconvenient to work with especially when I know I have moist, soft brown sugar, sealed tight in my Thrive cans down stairs. But I am being thrifty and don't want to throw away seven pounds of brown sugar because its hard as a rock. The best by date on the side of the bag is 10/2012. I am only a few months off. But its been rock hard for ages. It still tastes fine and cooks fine, its just dried out. I sifted the sugar this morning through my salad spinner strainer part. I do not have a sophisticated kitchen here. It works well for the application.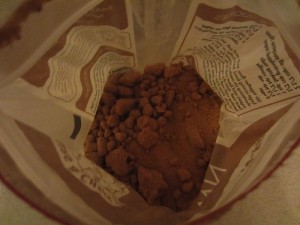 Back to the muffins. I mixed up the dry ingredients but was out of white sugar upstairs. And since everyone was sleeping and it was 7 am I didn't want to go downstairs into the cold storage. I wanted to enjoy the peace and quite while I mixed up the muffins. Also since you can see my brown sugar isn't the friendliest to bake with. I forgot to add the sugar to the dry ingredients!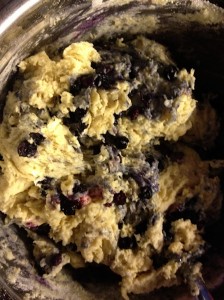 Heather is not kidding when she says this is thick batter! Its like dough. Really really thick. I rehydrated 1 1/2 cups of freeze dried blueberries in 1 cup of hot water. And let that sit while I mixed up everything else. This is the point when I remember I didn't add the sugar! Now I am going to have blue batter blueberry muffins because I now have to mix the sugar in with the blueberries already in the batter. I grab the "sifter", salad spinner inner strainer and sift a cup of sandy brown sugar. I mix it in the best I could. I really could have used Mr. Incredibles muscles for the job. But he was still in bed.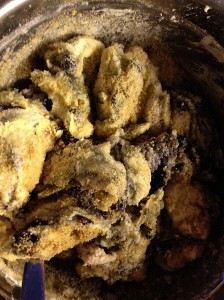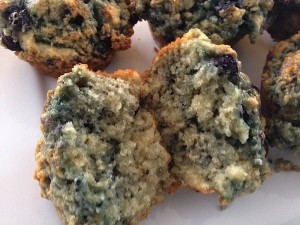 Here they are baked and blue. But oh so good. My Gigi asked if they were store bought! How about that as a compliment from a 6 year old. I told her that was the nicest thing she could have said to me.  The half mixed in brown sugar gave the muffins an outer sugar crust. This recipe make 12 regular size muffins and 10 mini muffins. They bake for 25 minutes.
Spaghetti and a Southwest Chili Lime Thrive Express for lunch today. Easy and fast.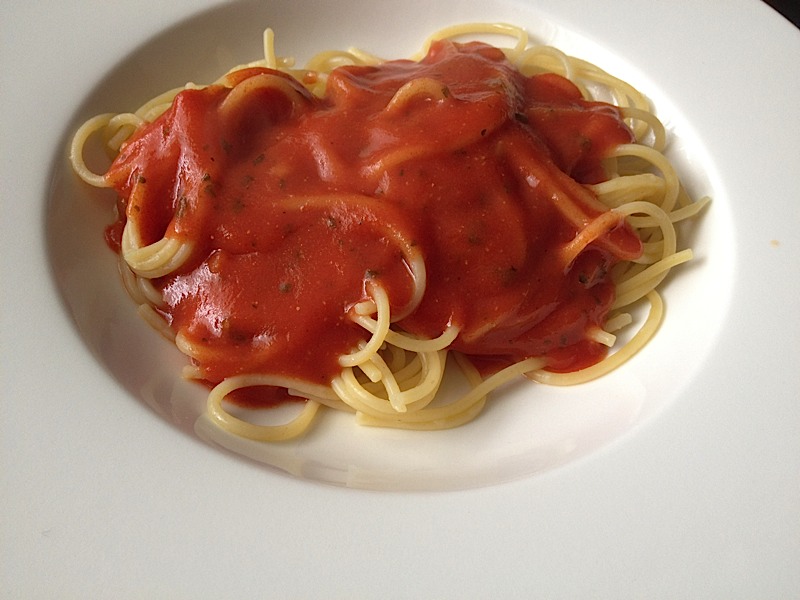 We ate dinner late tonight. The kiddos had left over California Casserole after school. We also snacked on freeze dried peaches and passion fruit yogurt bites.
For dinner I made curry chicken so I could use the other half of the coconut milk that I had saved in the fridge since Sunday. I love coconut milk. I am going to store a lot of it! This chicken curry recipe is so easy with Thrive food, it takes a 45 minute recipe and cuts it into a 15 minute recipe. By the time the rice has steamed the chicken curry is ready. Love that. I am not taking photos of duplicate recipes.
Tonight at dinner we talked about how next Thursday will be our last day eating from our food storage. I am really enjoying it now and think I could go on for quite awhile longer. I have sure learned a lot through this experience.
Seven more days here we go! Maybe I will get crazy and try seven new recipes. Maybe.