Yes we ate in that order today.
As you know I baked bagels last night. Julz wanted to bring one in her lunch with chicken salad. With Thrive food chicken salad is a cinch. Julz makes it herself. She just used the left over salad she made last week. The ratios I use are 1 cup chopped chicken (fd), 1/2 cup celery (fd), and 1/4 cup chopped onion (fd). Rehydrate in 1 1/4 cup hot water. Let the sit until all the water is absorbed. After 10 minutes drain off any excess liquid. Chill for and hour in the fridge then add a couple teaspoons of mayonaise.  Those ratios are enough to make two large chicken salad sandwiches. And that is what Julz brought for lunch today, well one on a bagel.
For breakfast I used 2 fresh eggs, 3/4 cup sausage crumbles (fd) rehydrated with 1/2 cup hot water, and 1/2 cup Colby cheese (fd) rehydrated in cold water.  This made 4 bagel breakfast sandwiches. Reese really enjoyed these this morning. He doesn't particularly care for ham, egg, and cheese sandwiches but he loved sausage egg and cheese on a bagel. Yay! Add it to the list of things Reese will eat happily.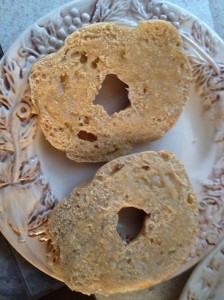 These bagels are made with half whole wheat and half white flour.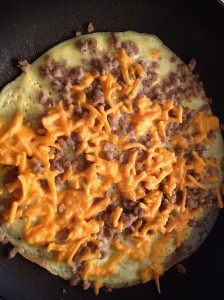 Thrive freeze dried cheese will melt much better than this but it needs time to rehydrate. I only had about 5 minutes to let it soak in cold water, not enough time to rehydrate fully.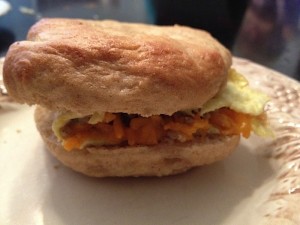 On Wednesdays Paige and I go to a play group. We packed apples, blueberries, raspberries, pineapple all freeze dried in a snack bag and a bean and rice burrito to eat for lunch. We also mixed up some Thrive peach drink and took it along with us. No photos of our lunch but it was good. We also snacked on our pretzels we made the night before.
I organized my recipe binder. Can you believe it? Its been a jumbled mess for so many years. About 4 years ago I attempted to organize it but this time I really did it. There is something about living on your food storage that makes "impossible" tasks become easy. There has got to be some universal law at work here. I am not sure which law it is. The law of provident living? I have also organized my cooking/baking utensil drawer and my bathroom shelves during this challenge.
I found a recipe I received at a crock pot recipe exchange over three years ago.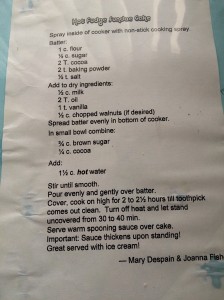 Here is the play-by-play photos for this recipe.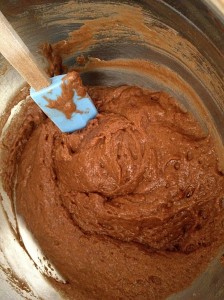 I used Thrive Instant milk in this recipe instead of fresh milk. So I just added 1 tablespoon of instant powder milk to the dry ingredients. Then added 1/2 cup of water instead of milk.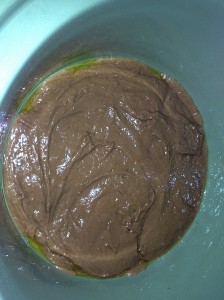 I went a little crazy with the non-stick cooking spray. Thats kinda gross.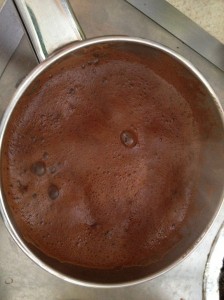 This part of the recipe I had to read twice. Since my brown sugar is very hard and dry I boiled 1 1/2 cups of water and added the brown sugar so it would dissolve and the cocoa. I was a little leery about pouring this sugar water mixture over the batter. But it works. Trust me I've tried it.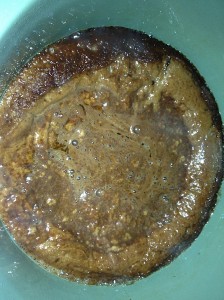 The crock pot is set to high. My crock pot cooks hot. After an hour and a half. I took the lid off and took the crock out of the heating element/melt part. Then I left to scouts.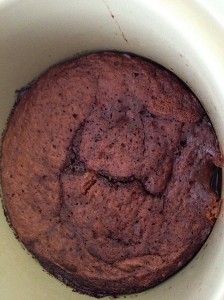 Here is what it looks like after its baked and cooled. My family is so good. They didn't touch it until I came home and took a picture. That hole there on the right is a vent hole the "sauce" made on its own. No one snitched.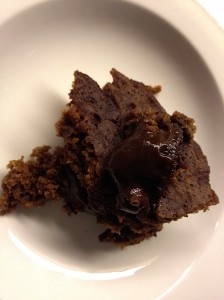 When you scoop the cake out there is this chocolate "spooning sauce" beneath the cake. I read the recipe 4 times trying to find the recipe for the "spooning sauce". The cake was really good. Not too sweet. I would have liked a little more chocolate umph. But I had everything on hand and it was easy. It doesn't call for any eggs. Yes ice cream would be good. Pagey keeps asking us to make ice cream. She is sure we can with the food we have on hand. I tell her we need cream and we've used all the cream. We do have freeze dried ice cream. 🙂
Tonight we ate dessert first. Living on your food storage puts things in perspective. After cake we had california casserole again. Pagey's request.